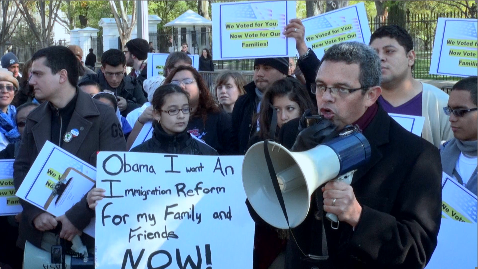 During the Presidential election on November 6, 2012, Maryland citizens voted in favor of the state's version of the "Dream Act". The law grants in-state public tuition rates to undocumented immigrant students who have attended Maryland high schools for at least three years. Students must first attend a community college and earn at least 60 credits or receive an associate degree before qualifying for the tuition discount at a four-year college.
The in-state tuition rate makes a big difference for families. Undergraduate in-state tuition at the University of Maryland is $8,909 for academic year 2012-13, a 68 percent savings over the $27,288 out-of-state tuition fee.
The Maryland law was approved by the state General Assembly and Governor Martin O'Malley in May, 2011, but critics gathered enough signatures to place the referendum on the Presidential election ballot. 58 percent of all voters upheld the law. Although a dozen states have similar legislation, no other state has approved such a law through a popular vote
Three days after the vote, Casa de Maryland gathered more than two hundred undocumented immigrants in front of the White House to celebrate the victory. Casa de Maryland, a nonprofit organization assisting immigrants in the state, has lobbied and organized for passage of the Maryland Dream Act for years.
At the White House, Gustavo Torres, Executive Director of Casa de Maryland spoke to the crowd through a bullhorn, "Let me say something to our brothers and sisters, the African American community. Thank you so much! We won in Maryland because of you. You made a difference. Almost 80 percent of African Americans said yes to the Dream Act."
The crowd passed the bullhorn around and spoke through the iron fence that surrounds the White House congratulating President Obama on his re-election and thanking him for his support. Florine Ngazanga, an immigrant from Cameroon explains, "We are so happy that he came back for a second round, and we really want him to support us the way we supported him. We're just here for him and we want him to be here for us."
Many of the undocumented immigrants in attendance will be directly affected by passage of the Maryland Dream Act.
Veronica Saravia, an immigrant from El Salvador who came to the U.S. when she was seven explains, "I want to become a developmental psychologist. I want to help people like I have been helped. I want to help so many people out there. If America gives a me chance to better myself and show them that I can better this country too, I would do a good job."
Michael Jimenez, 19, came to America with his mother when he was two years old. After graduation from high school Jimenez attended one semester at a local community college but soon found tuition fees out of reach. Voters passed the Maryland Dream Act precisely for people like Jimenez. He and other young undocumented immigrants have a better chance of realizing their potential and receiving college degrees than ever before and Jimenez is grateful. "It is incredible to see everybody working as a team, as a union for better life. It is inspiring," he says.
But the struggle is not over. Torres reminded President Obama that comprehensive immigration reform, passing laws that provide a path to citizenship, is yet to be realized adding, "we've got your back".
If you Like it, Please, Share it.