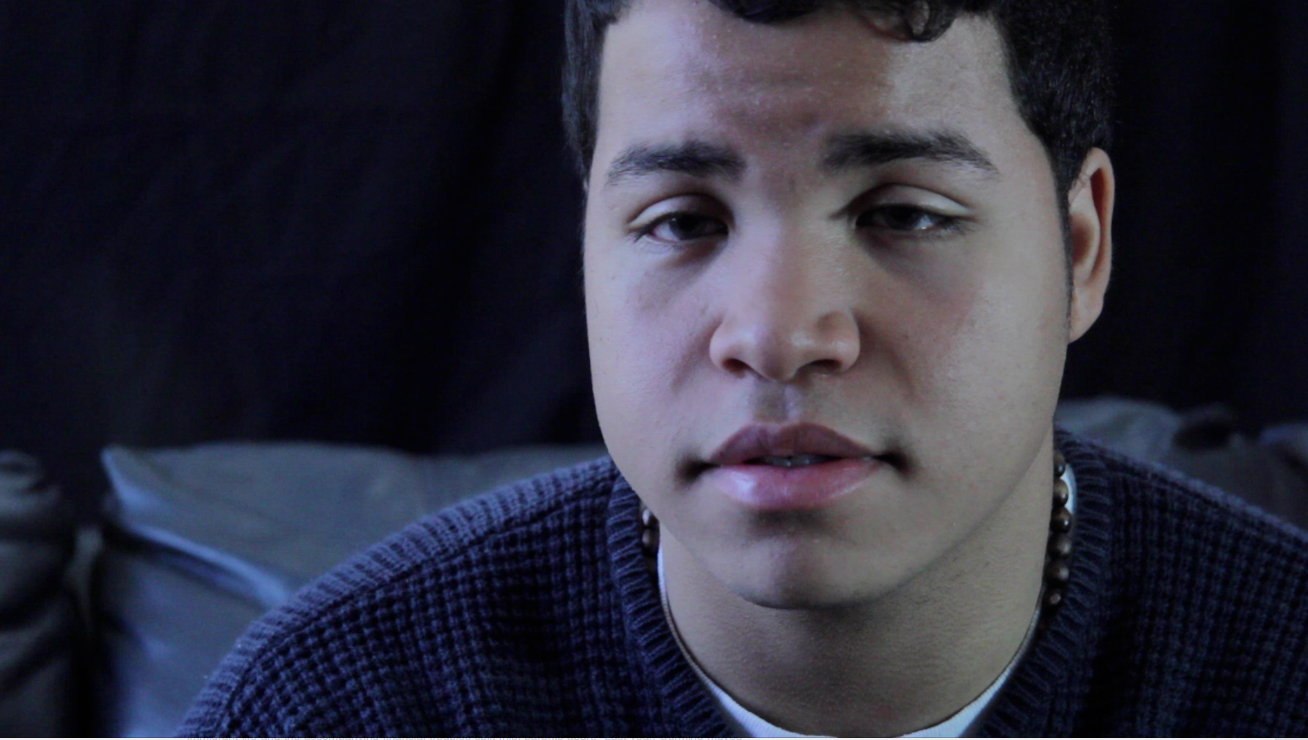 Sharing the American Dream from Jacob Foko on Vimeo.
The American Dream, the belief that through hard work and determination anyone can achieve a better life, has attracted immigrants to the United States from the beginning. For many people, today as in the past, America is the land of opportunity, of freedom, and of dreams waiting to be realized.
As of the 2010 Census, approximately 40 million immigrants live in America. That's nearly one in eight people and not all of them are authorized to be here. In fact, an estimated 11.2 million, or 28 percent of all immigrants, are undocumented, living here without legal status. Michael Jimenez is one of them. He, and up to 1.7 million other young undocumented immigrants received, if not a permanent fix, at least a reprieve when President Obama announced his Deferred Action Immigration Plan on June 15, 2012.
Michael's Story – We Are Americans
In 1996, two-year-old Michael Jimenez, now 19, traveled to America from Panama on a tourist visa with his mother, Carmine. Once in Miami, they never returned to Panama and became, in the legalese of immigration law, undocumented visa over stayers. Only a few months before, Michael's father, Enrique, entered the country, also without documentation, to find work and with plans to send money home to his family. When they reunited in Miami, the plans changed. Enrique and Carmine took their chances and decided to keep the family together in America, to give themselves and their son an opportunity for a better life.
Undocumented immigrants cannot get jobs that require social security numbers. This leaves them with few work options outside of construction… seasonal work, cleaning, and the Jimenez were no exception. To make ends meet, Enrique worked construction jobs while Carmine cleaned and when construction projects dried up, as they inevitably did, the family would pack up and move where work could be found. They started in Miami but moved to New York within a year and, eventually, to Maryland.
Spanish was spoken at home but Michael, being so young, learned English while watching television and once in school was on track with his peers in every way. However, as a child he didn't fully grasp what it meant to be undocumented, only that it was not information to be shared with everyone, perhaps in the way that the embarrassment of a wayward uncle might be for others. Not wanting to feel different, or inferior, he pursued his studies and extra curricular activities with passion, as if his legal status didn't matter. Still, only a few select friends knew the truth. Adding to this duality, his two sisters, Genesis, 11, and Angela, 8, are U.S. citizens by birth and do not share his undocumented status.
As a high school freshman, Michael enrolled in ROTC and began working out at the gym in preparation for a military career. Three years later, in his senior year, the truth hit home; unlike his classmates, being undocumented meant he was not eligible to join the military or apply for student loans. After high school, disappointed but not discouraged, Michael enrolled in Montgomery College, a public, open access community college, and started taking business classes. As he is unable to acquire a driver's license due to his status, he woke up daily at 4 a.m. to catch the 5 a.m. bus, and after one transfer and nearly two hours of travel, would arrive in time for his first class. It wasn't easy but Michael is a determined young man not prone to giving up.
Money has always been tight for the Jimenez family and now, with a child in college, it was even more difficult. Enrique and Carmine's marriage suffered. According to Michael, "the stress of undocumented immigrant life and the accompanying financial troubles split [his] parents apart." Last year, Carmine moved out and Enrique found it difficult to work. Enrique's unemployment ultimately resulted in an eviction: Michael and the rest of the family lost all their belongings and their home. This crisis made it impossible for Michael to continue his schooling.
After just one semester of college, Michael quit school and, for a time, felt lost and alone. With the help of friends and the support of Casa de Maryland, he is now working with Enrique to build a client base for their own construction company and manage the business. Michael hopes to return to school when time and finances allow.
The Undocumented and Their Challenges
In 2010, the Pew Hispanic Center published a paper estimating the undocumented population at 11.2 million, slightly more than one in four immigrants and 3.6 percent of the total U.S. population.
But, unlike native-born Americans and documented immigrants, nearly all undocumented men (96 percent) are in the labor force pushing their numbers to about 5 percent of all U.S. workers, and 10 percent of all low-wage workers, according to an Urban Institute study in 2004.
The same study states, "Undocumented workers earn considerably less than working U.S. citizens. About two-thirds of undocumented workers earn less than twice the minimum wage, compared to only one-third of all workers." This reality, perhaps even more than having to remain invisible to authorities, presents the biggest challenge to undocumented immigrants. Low-wage workers have limited options for housing, health care, education, and other necessities of life and when unexpected events occur, such as illness or other losses, they often find themselves without the resources to weather the storm.
Help for Immigrants – Casa de Maryland
In the 1980s, thousands of Central Americans fled their countries to escape war and civil unrest with few resources and little support. By 1985, many had located to the Washington, D.C. area where several congregations came together to form Casa de Maryland with a staff of two and a few volunteers to provide this population with clothing, food, immigration assistance, and English instruction. As the numbers grew, so did the need. In 1991, with assistance from local governments and private foundations, CASA began providing employment assistance and legal help as well.
Today, CASA is the largest Latino and immigrant assistance organization in Maryland with five welcome centers and three training centers serving workers, tenants, and low-income women. The welcome centers serve men and women without full-time jobs who come seeking temporary day labor work to support themselves and their families. At the centers, workers and employers alike are screened and registered, workers are placed in short-term jobs, and quality control measures are implemented to meet and improve standards for all involved.
The training centers offer classes in citizenship, English, computer literacy, and health promotion, as well as vocational training in computer repair, landscape management, drywall and painting, maintenance engineering, dressmaking and tailoring, security jobs, childhood development, heating, ventilation and air conditioning, ceramic and tile, and electrical apprentice licensing.
Additionally, CASA's legal, social services, and health program helps immigrants find assistance in these areas and assists them in filling out forms or legal documents when necessary. But it doesn't stop there. Alone and in partnership with other organizations, CASA organizes the low-income community to advocate for institutional change at the local, regional, and national level. Currently, CASA is actively promoting the Maryland DREAM Act and supporting President Obama's Deferred Action Immigration Program.
President Obama's Deferred Action Immigration Program
On June 15, 2012, President Obama announced that the Department of Homeland Security will no longer initiate the deportation of illegal immigrants who came to the United States before age 16, are no more than 30 years old, have lived here for at least five years and are in school, are high school graduates or are military veterans in good standing. To qualify, immigrants must have clean criminal records.
Undocumented immigrants who qualify will be granted deferred action for two years and can apply for work permits. After two years, the deferral may be renewed. While taking the pressure off hundreds of thousands of undocumented young people, many experts say this change does not go far enough.
Attorney Danielle Beach-Oswald, best known for her humanitarian work in assisting people who seek freedom from torture, or who are victims of domestic or cultural violence, including human trafficking, advocates for more long-lasting and comprehensive immigration reform. As President and Managing Partner at Beach-Oswald Immigration Law Associates in Washington, D.C., she has helped hundreds of undocumented immigrants navigate or avoid deportation by finding legal avenues for them to remain in the country and where possible, to gain citizenship. As Ms. Beach-Oswald points out, deferred action is not a path to citizenship; it does nothing to increase access to student loans or other government programs that are available to citizens and it ultimately leaves individuals facing a return to undocumented status every two years. This is, at best, a band-aid approach to immigration reform.
The DREAM Act
President Obama's Deferred Action Immigration Program is essentially a compromised version of the DREAM Act, proposed legislation that would provide a path to permanent residency, perhaps even citizenship, for young undocumented immigrants. To qualify, nearly identical to deferred action, undocumented immigrants must have entered the United States before age 16, have graduated from a U.S. high school or obtained a GED, have lived in the country continuously for at least five years, be under 30 years old, and have no previous or current convictions.
But, unlike deferred action, qualified immigrants would receive temporary residency for a six-year period during which they may qualify for permanent residency by acquiring a degree from an institution of higher education in the United States or completing at least two years, in good standing, in a program for a bachelor's degree or higher degree. Permanent residency would also be granted to those who have served in the armed services for at least two years and, if discharged, received an honorable discharge.
Since 2001, several versions of the DREAM Act have been proposed and two bills were debated in Congress, both of them stalled by Republican opposition – despite bi-partisan sponsorship. The most ardent opponents call for deportation of all undocumented immigrants, no matter their circumstances and believe that policy reform, such as the DREAM Act would encourage others to overstay their visas or enter the country illegally.
The Way Forward
Historically, both Democrats and Republicans have enacted immigration reform designed to help undocumented workers. In 1986, President Ronald Reagan championed the Immigration Reform and Control Act, which, in addition to strengthening border patrol programs and sanctions on employers of undocumented workers, granted amnesty to any illegal immigrant who had entered the United States before 1982 and had continuously lived here since. Of the 3.7 million eligible for amnesty, 2.9 million accepted it.
Today, "amnesty" is out of favor, replaced by more nuanced discussions of who should qualify, under what circumstances, and for what status. In the 2012 presidential campaign, neither of the candidates is an advocate of amnesty for undocumented immigrants; both candidates promote some form of relief for young undocumented immigrants who came here as minors. But that's where agreement ends.
President Obama supports legislation that would provide a pathway to citizenship for qualified undocumented immigrants, while the Republican contender, Mitt Romney appears to back a modified version of the DREAM Act that would allow permanent residency, not citizenship, to those who serve in the military or graduate from institutions of higher learning. This difference does not seem particularly great until you add Romney's concept of self-deportation to the mix. Romney would toughen laws and strengthen enforcement, making it impossible for undocumented immigrants to get driver's licenses, jobs, and other basic necessities, to create such hardship for them that they would leave the United States (4).
It is unclear which way the worm will turn on immigration reform and the election will have a bearing on the direction. But for now, most undocumented young people are overjoyed with Obama's deferred action program which they see as a big step in the right direction, a step closer to their personal American dream.
If you Like it, Please, Share it.